Chapel Hill Bird Count Circle — areas 19, 20, 21, and 32
19. Finley Golf Course. Notes: Check the large pond for water birds; several brushy areas between the greens are good for sparrows. The mature pines that dominate the course should have Pine Warblers and Brown-headed Nuthatches.
20. Mason Farm. All areas of the Mason Farm Biological Reserve, including the hackberry-warbler trail, the loop trail, and game lands to the south of the loop trail. Notes: Be sure to return to the open fields at dusk to watch for ducks making their evening commute and listen for American Woodcocks (winter).
21. Laurel Hill area. Bounded by 15-501 on northwest (from Mt. Carmel Ch. Rd. to Raleigh Rd.), NC 54 on north (from 15-501 to Farrington Rd.), Farrington and Farrington Mill Rds. on east, Chatham County line on south, Mt. Carmel Church Rd. on west. Includes NC Botanical Garden, but excludes Mason Farm, Carolina Meadows, and Finley Golf Course. Notes: The forested trails of the NC Botanical Garden are a prime spot to cover.
32. Carolina Meadows area. Carolina Meadows development off Farrington Mill Rd, bounded by Mt. Carmel Church Road on west, Whippoorwill Lane on southwest, Farrington Mill Rd. on southeast, and the Orange County line on north. Notes: This area is covered by residents of the Carolina Meadows retirement community.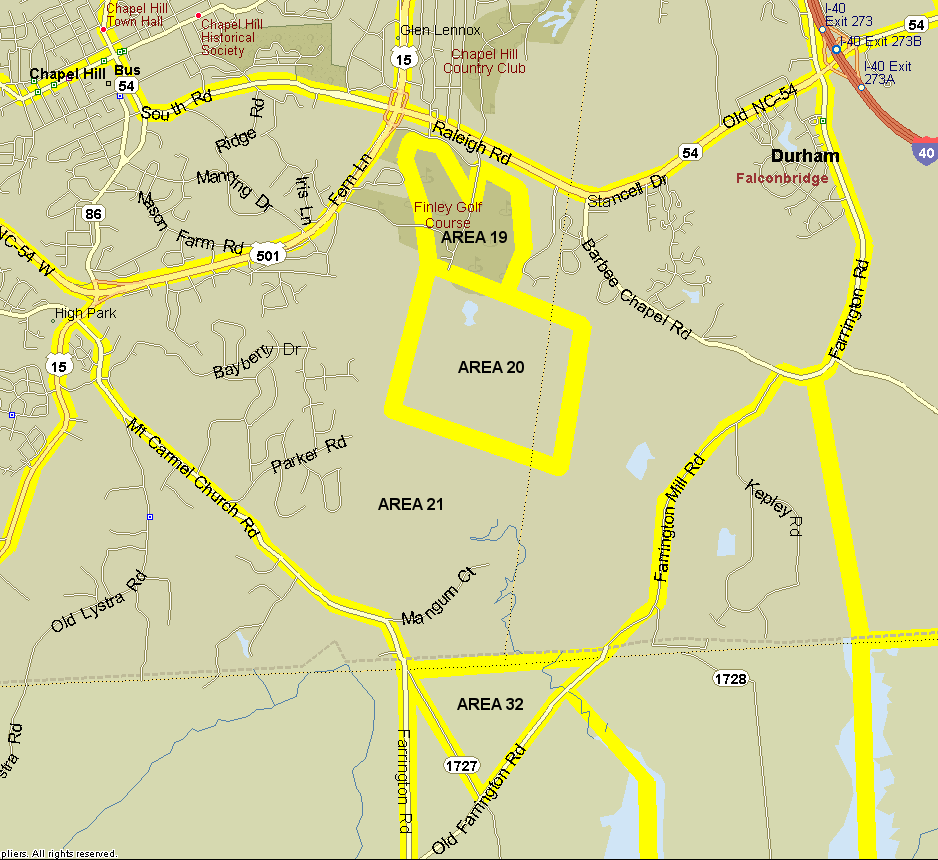 Revised 31 December 2008 cwcook@duke.edu