Chapel Hill Bird Count Circle — areas 22S, 24N, and 24S
22S. Southeast area. NC 751 from Fayetteville Rd. (1118) south to count circle, west to midstream New Hope Creek/Jordan Lake, north to Chatham Co. line; county line east to count circle. Notes: Includes game lands accessible from 751 (parking lot just north of the bridge over Jordan Lake).
24N. Old Hope Valley Farm Rd. area. Peninsula in Jordan Lake from center of New Hope Cr. on east to center of Morgan Cr. on west and from count circle north to Farrington Mill Rd (SR 1109/1726). Notes: Includes Kepley Road. See Old Hope Valley Farm Road for ideas on where to go.
24S. Whippoorwill Lane area. Bounded on north by Farrington Mill Rd. (SR 1726), east by center of Morgan Creek, south by count circle, west by Farrington Road (1008). Includes Farrington Mill Rd. bridge over Morgan Creek. Count both sides of 1008. Notes: There is an extensive swampy area at Cub Creek east of Farrington Road which has a large Great Blue Heron colony.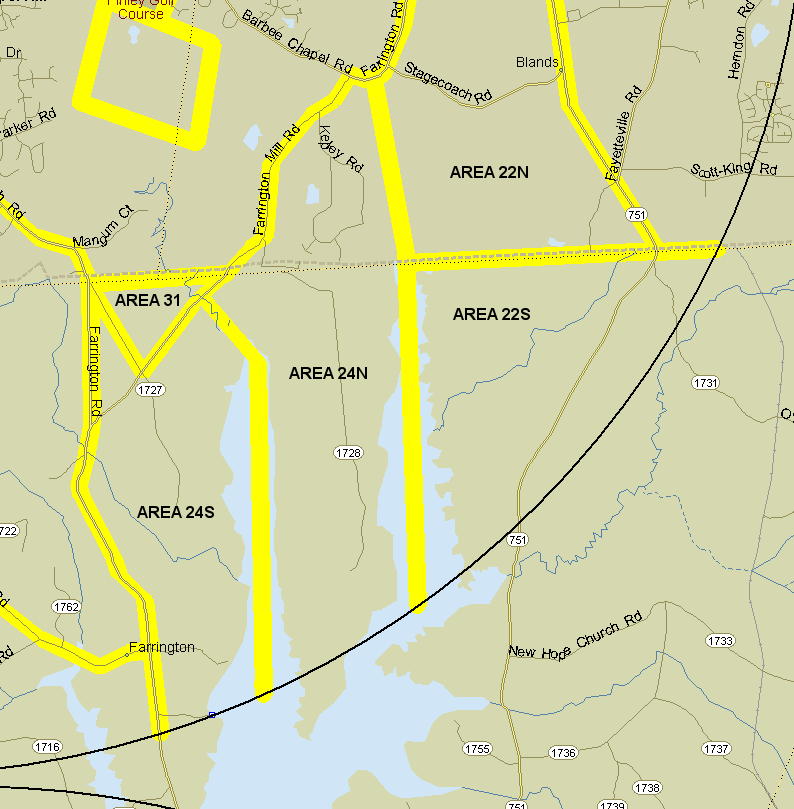 Revised 31 December 2008 cwcook@duke.edu