Chapel Hill Bird Count Circle — areas 3 and 8
3. New Hope Church area. Bounded on north by count circle, east by NC 86, on south by Eubanks Rd. from 86 to Rogers Rd., on west by line from 0.6 mile west of Rogers Rd. north to include the FACE site, then diagonally to I-40 1 mile south of I-40/New Hope Ch Rd. interchange and then I-40 north to count circle. Count both sides of Eubanks Road and 86. Notes: Includes Camp New Hope, the Orange County Landfill (on both sides of Eubanks), the new Blackwood Farm Park, and the Duke FACE site, with entrance on Eubanks Road. Stop for lunch at Allen & Son BBQ for the finest hickory-smoked eastern NC style Q money can buy (closed Sun-Mon).
8. Turkey Farm Rd. area. Bounded on west by NC 86, on south by Weaver Dairy Rd., on east by Sunrise Rd./line north from Sunrise to New Hope Creek/New Hope Cr. to Turkey Farm Rd./Turkey Farm Rd./Mt. Sinai Rd./University Sta. Rd., on north by count circle. Excludes Carol Woods and NC 86. Notes: See Johnston Mill Nature Preserve for information on one great spot to cover.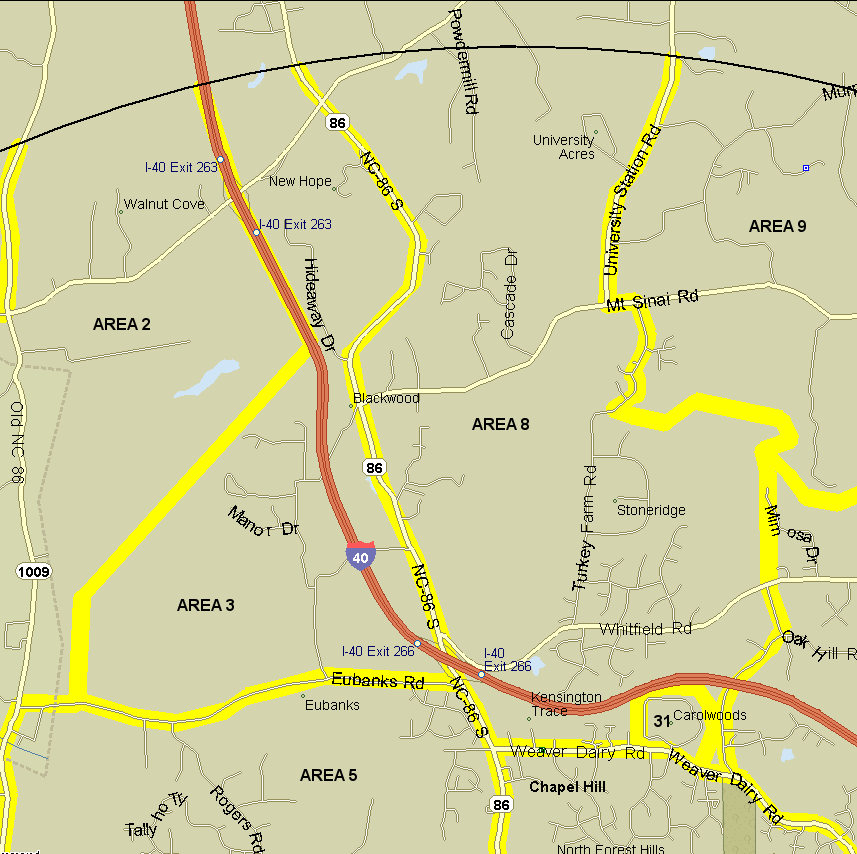 Revised 31 December 2008 cwcook@duke.edu